Auto Body Specialists was established in 1970 as a full service collision repair facility. For over thirty 36 years we have strived to be the finest in collision repair. As a young twenty year old, Michael Doerfler wanted to be the best.
Working in two shops after leaving the Navy, it was very clear that quality was not on most shops list of things that were important. He loved cars, the people who drove them and became friends with many over the years. That devotion now continues with the second generation of Doerfler's.
Jay has picked up where Michael left off, spending more time with that attention to detail, using the latest technologies, materials and labor practices that have keep Auto Body Specialists as the premier shop in the area.
Many times it has crossed our mind, that people are not interested in honesty, integrity and that attention to detail we have always provided. But, after stepping back, we realize that is what got us here and it is where we want to stay.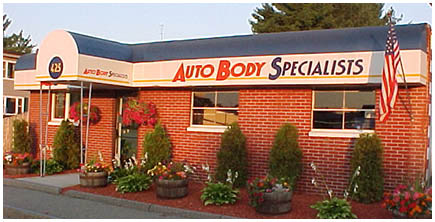 With the insurance industries latest trend to save money at all costs, affecting not only the quality of repairs but the safety of the vehicle occupants, Auto Body Specialists has decided to move in a different direction and step ahead of our competition.
As we have done for many years, Auto Body Specialists has begun to focus on the restoration of classic cars and specialize in "muscle" cars of the 50's, 60's and 70's. We will continue to repair collision damaged vehicles, only on our terms, terms of honesty and quality, not someone's whose only concern is saving money for its stockholders.
We are one of the few shops who actually know who our true customer is, and that is you, the vehicle owner. If you allow us to restore you classic vehicle or repair your collision damaged one, we will cater to your needs and your needs alone. Our reputation has always been our best source of work and we will continue to build on that reputation with the second generation of repairers.