Welcome to Auto Body Specialists
Auto Body Specialists was established by Mike Doerfler in 1970 primarily as a collision repair shop. Auto Body Specialists has always been known for providing honest and quality workover the years. Picking up where Mike left off, Jay Doefler has shifted the shop's focus to the classic cars, resto-mods and high end pro touring builds. With an even greater eye for detail and desire to be one of the best in the industry, Jay has transformed the business into a well running restoration shop.
We have a simple philosophy here at ABS Classic Muscle Car Restorations. A car has to function well and be eye appealing all at the same time. We are committed to giving you a quality car inside and out that will last for many years to come. Never satisfied with being "good enough", we continue to push to be better with each job that rolls into the shop.
Ranging from Classic American to Vintage European, or whether it be factory original or a custom high end build there is no project that we can't handle. Every job whether it be a full frame off restoration, pulled out of another shop that wasn't giving you the work they promised, or even some smaller touch up work, ABS Classic Muscle Car Restoration will give you the devotion and attention to detail you car truly deserves.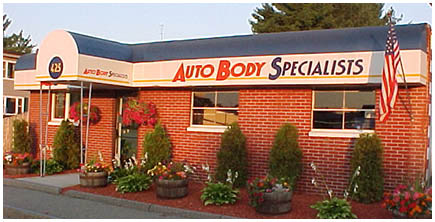 Latest Projects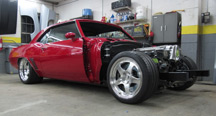 1969 Camaro Pro Touring Shop Project
This Camaro is getting the full Pro Touring treatment; New LS-6, Pro Charger, 650 RWHP, G-force Viper T-56, Currie 9" Wayne Due C-5 front suspension, DSE Quadra Link rear suspension, Bear brakes, Fikse wheels, Michelin Sport Pilots, 275/35/18 in the front and 335/30/18 in the rear, This project is being built to showcase what we can do here at ABS.
See Complete Gallery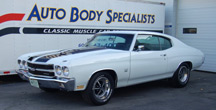 1970 Chevelle SS 396 L-78
Bill Gage ordered this car brand new sometime in early August of 1969 and took delivery on 10-10-1969. Bill has had the misfortune of a few different shops making a real mess of his car over the years. So Bill is having us clean it up. We will be detailing the engine compartment, rebuilding the motor, rebuilding the front suspension, restoring the interior, and rewiring the complete car, along with fixing most of the paint issues created by a shop that just painted the car.
See Complete Gallery


1969 GTO RAM AIR III JUDGE
Here is another great project from Bill Prizer. Bill brought us this GTO Judge as a complete basket case that needs everything. As I understand, this car is 1 of only 8 white GTO Judges built in 1969. It is also believed that this could be the only 1969 GTO Judge Ram III with a white exterior and a red interior. This car is a complete nut and bolt frame off restoration and we are using mostly NOS parts to put in back into showroom condition.
See Complete Gallery