Auto Body Specialists was established by Mike Doerfler in 1970 primarily as a collision repair shop. Auto Body Specialists has always been known for providing honest and quality workover the years. Picking up where Mike left off, Jay Doefler has shifted the shop's focus to the classic cars, resto-mods and high end pro touring builds. With an even greater eye for detail and desire to be one of the best in the industry, Jay has transformed the business into a well running restoration shop.
We have a simple philosophy here at ABS Classic Muscle Car Restorations. A car has to function well and be eye appealing all at the same time. We are committed to giving you a quality car inside and out that will last for many years to come. Never satisfied with being "good enough", we continue to push to be better with each job that rolls into the shop.
Ranging from Classic American to Vintage European, or whether it be factory original or a custom high end build there is no project that we can't handle. Every job whether it be a full frame off restoration, pulled out of another shop that wasn't giving you the work they promised, or even some smaller touch up work, ABS Classic Muscle Car Restoration will give you thedevotion and attention to detail you car truly deserves.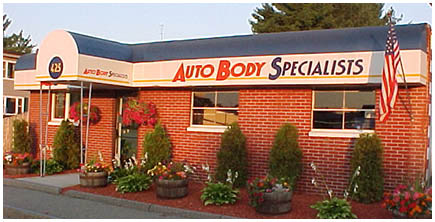 With the insurance industries latest trend to save money at all costs, affecting not only the quality of repairs but the safety of the vehicle occupants, Auto Body Specialists has decided to move in a different direction and step ahead of our competition.
As we have done for many years, Auto Body Specialists has begun to focus on the restoration of classic cars and specialize in "muscle" cars of the 50's, 60's and 70's. We will continue to repair collision damaged vehicles, only on our terms, terms of honesty and quality, not someone's whose only concern is saving money for its stockholders.
We are one of the few shops who actually know who our true customer is, and that is you, the vehicle owner. If you allow us to restore you classic vehicle or repair your collision damaged one, we will cater to your needs and your needs alone. Our reputation has always been our best source of work and we will continue to build on that reputation with the second generation of repairers.